Pulse fiber laser cleaning machine adopts pulse fiber laser source, a new generation of non-contact cleaning equipment. The high-brightness laser is transmitted through the optical fiber, and combined with the hand-held cleaning head, it can flexibly swing and clean. The hand-held cleaning head can also be fixed on the automated production line to achieve efficient cleaning and refurbishment of products in large quantities.
Pulse fiber laser cleaning machine,the output laser peak power is high, the single pulse energy is large, the cleaning head adopts double wobble structure. Compared with traditional cleaning methods such as ultrasonic, chemical corrosion, and mechanical friction, it has the advantages of no damage to the product substrate, small heat input, no consumables, and efficient cleaning. It can remove rust, coating, plating, paint, resin and oil stain on the surface of the product.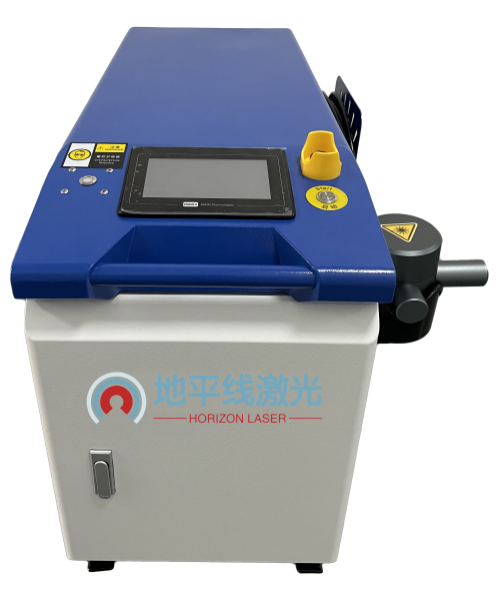 Mainly used in mold industry, refurbishment of mechanical parts, rail transit, shipbuilding industry, petrochemical pipeline, automobile manufacturing, cultural relic restoration and other industries.

Characteristic Parameters
Terms

Characteristics

Typical Value

Unit

Electrical Characteristics

Supply Voltage

220

V

 

Power Consumption

700@100W、3500@200W、4000@300W

W

General Characteristics

Average Power

100-300

W

 

Peak Power

16@100W、100@200W、100@300W

kW 

 

Maximum Single Pulse Energy

1.8@100W、13@200W、13@300W

mJ

 

Cooling Method

Air Cooling@10W
Water Cooling@200-300W

 

 

Adjustable Cleaning Width

180

mm

 

Cleaning Head Weight

<2.4

kg

 

Dimensions

L1070*W650*H700

mm

 

Weight

100-160

kg
Using a pulsed laser combined with a double wobble 

cleaning head solution

 with high  

efficien

cy, no streaks, delicate cleaning results 

and

no damage to 

the substrate;
The cleaning head can be switched between handheld and fixed to meet different cleaning scenarios;
The cleaning width can reach 180mm, which can meet the high-efficiency cleaning of large-size products;
It has 9 sets of cleaning process parameters and 4 cleaning trajectory modes, which can be directly applied to the cleaning of different products;
Long-distance optical fiber transmission, mobile operation and available cleaning for large fixed equipment, products with complex shapes, and hidden parts;
Wide range of cleaning materials, can remove rust, coating, plating, paint, resin, oil, etc.
200W pulse fiber laser cleaning machine

Cleaning Objects

Thickness

Cleaning Efficiency

Rust

50μm

10-15m3/h

Rust

120μm

4-6m3/h

Paint

100μm

2.5-4m3/h

Note: The above cleaning efficiency is for reference only, and the actual product cleaning test shall prevail.


---
Post time: Nov-22-2022